Manuela Hübner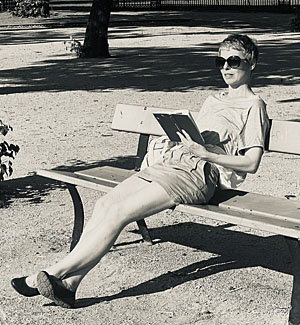 My works are direct emotional and sensuous expressions.
Whether figurative or non-figurative, they centre around emotional content.
The body is the physical manifestation of our inner journey, keeping a score of our passions and fears.
Revealing feelings, which are truer than logic, as well as the beautiful and the dignified is at the core of my work.
The media used suggest themselves and vary.
My way of working is playful.
I suspend judgement of good or bad, right or wrong, and respond intuitively without forcing the conditioned critical mind upon the process.
I go with the flow, with accidents, and with first attempts as they contain all of the original creative energy and excitement.
In July 2016 I switched from using my dominant right hand to my left hand – see #LeftTurn exhibition. For four years my creative output was almost exclusively left-handed. Today I work with both hands.
Besides numerous solo exhibitions, group shows and private commissions, I have worked on a mural for the Fitzwilliam Museum in Cambridge, and led workshops as part of the Arts Council funded program 'Drawing Connections', a collaborative education partnership between the University of Cambridge, HMP Spring Hill prison and Banbury & Bicester College.
Right now I live and work in Berlin.