Manuela Hübner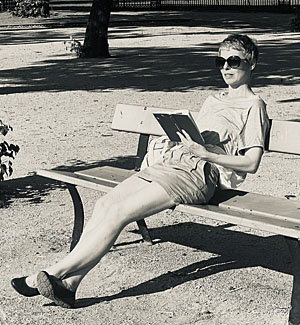 My works are direct emotional and sensuous expressions.
They are not about concepts or styles. Nor do they adhere to one specific genre or medium.
I pick up a canvas and start, letting it evolve without preconceived ideas or preliminary studies. Each and every thing has its own path, its own way of development.
Underneath the end result are always dozens of scenes and stories, each layer being a requisite for the next one.
What I aim for, but can ultimately only hope for, is to create art that is serene and soothing.
Much of the creative drive comes from struggle. But the art of art as well as the art of life is to turn dark energies into a lighter shade of grey.
In July 2016 I switched to my non-dominant hand, tapping into unknown potential and discovering the beauty of relinquishing control – see #LeftTurn exhibition. For four years my output was almost exclusively left-handed. Today I work with both hands.
Besides many solo exhibitions and group shows, I have done commissions for private collectors and also for the Fitzwilliam Museum in Cambridge. An important experience for me was also leading workshops as part of a collaborative education partnership between the University of Cambridge, HMP Spring Hill prison and Banbury & Bicester College.
In 2021 I left the UK, my home for 30 years. Currently I live and work in Berlin.