Exhibitions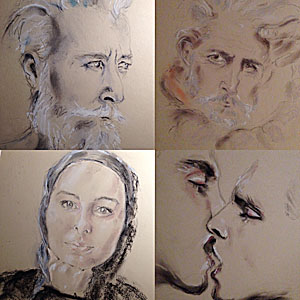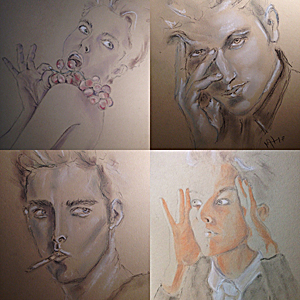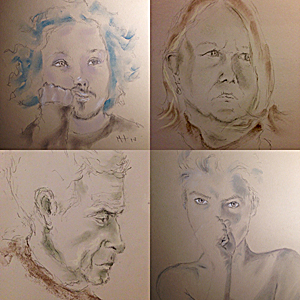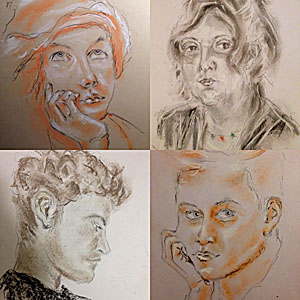 #LeftTurn
An exhibition of 125 left-handed portraits and new work by Manuela Hübner
11 March – 4 May 2017
Espresso Library, East Road, Cambridge (map)
Opening Night Saturday 11 March 2017, 6pm – 10pm
All welcome
The Story
Right-handed since childhood, Manuela was forced to use her non-dominant left hand in the summer of 2016. What became apparent was a lot of untapped potential.
Continuing to explore the left, she roamed through cafés and public places, sketching people.
The popular Espresso Library – one of Cambridge's coffee, culture and art hubs – eventually became her preferred hunting ground. Here, the idea of a Wall of Faces was born.
The drawings on show were created over a period of three and a half months and document the journey of what happens when you explore, play and persevere.
They offer interesting insights into the peaks, troughs and plateaus of a learning curve whilst illustrating the stages of artistic style development and the sheer power of pursuing a vision.
The visual works are accompanied by the artist's observations on differences and similarities between left-hand/right-hand use as well as some surprising new incidental abilities.
The exhibition is also a tribute to beauty and human connections – to all the people who have lent their face to this project by allowing Manuela to capture their unique features and character, and not least to the Espresso Library for taking a gamble with this unusual and organic enterprise.
All portraits are for sale. A gallery of all portraits can be viewed on Instagram, Facebook and Twitter. See also Espresso Library's art page.
Want to be part of the Wall of Faces?
Book yourself in to be drawn. In the age of the selfie, a 'youie' is a novel and exciting, sometimes even revelatory experience for many people.
Past exhibitions
(*solo shows)
2016
• As Happy as the Birds in Spring, The Old Firehouse Engine Galleries, Ely.
• The Things We Do - Slices of Life served up in Mixed Media, The Old Fire Engine House Galleries, Ely*
• Pint of science festival, Cambridge
• Letting in the Light, The Grove, Stratford, London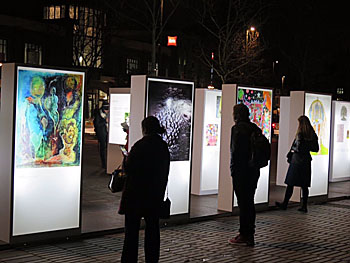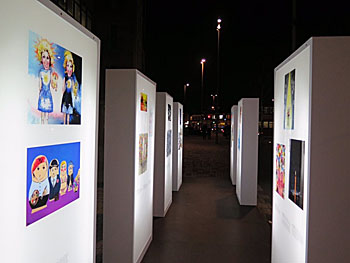 My work on display.


• WOW Women of The World Festival, Cambridge
2015
• The Affordable Art Show, The Upper Galleries, The Plough, Shepreth
• The Change Exhibition, Pivotal – The Cambridge Festival of Change, Cambridge
• Cyprus Day at Fitzwilliam Museum, Cambridge
• East Side Fringe / Romsey Art Festival 2015, Cambridge*
• The Gallery Highwayman's, Risby, Bury St Edmunds
• Open For Art, The Plough, Shepreth
• Salon des Refusés 2015
SPACE, London
• Art Meets Science – Creative Reactions Exhibition
as part of Pint of Science Festival
• Balzano's, Cambridge*
2014
• Elements of Rough and Smooth, The Gallery Highwaymans, Risby, Bury St Edmunds
• CGP London 30th Annual Open Exhibition, CGP London, London
• Narrative with Cambridge Creative Network, The Box Café, Cambridge
• The Geldart, Cambridge*
• Summer Exhibition, Byard Art, Cambridge
• Romsey Art Festival, Cambridge*
• ARTworks Charity Art Fair, Cambridge
• Mixed Up, Urban Larder, Cambridge*
2013
• Michaelmas Collection 2013, Williams Art, Cambridge
• The Miniature Series, Frameworks, Cambridge*
• Romsey Art Festival, Cambridge*
2012
• St Paul's Centre, Cambridge
• Mill Road Winter Fair, Cambridge
• The Bodywise Studio, Cambridge*
• Images and Imaginings of Other Places, Michaelhouse Centre, Cambridge
• Frameworks, Cambridge*
• ArtCell Gallery, Cambridge